Government of Canada invests to create jobs and accelerate the growth of Northern Ontario's mining supply and service sectors
February 8, 2021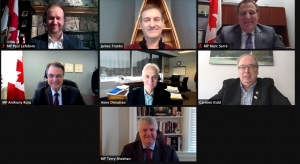 Innovation, Science and Economic Development Canada
News Release
For Immediate Release 
Government of Canada invests to create jobs and accelerate the growth of Northern Ontario's mining supply and service sectors
FedNor funding to help Northern Ontario mining pavilion shine at virtual international mining convention
February 8, ON – Federal Economic Development Initiative for Northern Ontario – FedNor
Mining and related industries employ more than 634,000 people across the country and contribute as much as $97 billion a year to Canada's GDP. In Northern Ontario alone, the mining supply and service sectors generate an estimated $5.6 billion annually and support an additional 23,000 high-quality jobs throughout the region.
Terry Sheehan, Parliamentary Secretary to the Honourable Mélanie Joly, Minister of Economic Development and Official Languages and Minister responsible for FedNor, today announced a Government of Canada investment of $500,000 to enable the City of Temiskaming Shores to establish the seventh annual Northern Ontario Mining Showcase (NOMS) pavilion at the 2021 Prospectors and Developers Association of Canada (PDAC) International Convention. Taking place March 8-11 on a virtual stage, PDAC 2021 is expected to reach a broader global audience, support a more targeted approach to exhibiting and help connect potential buyers or investors with new business opportunities during COVID-19 shutdowns.
This strategic initiative will help up to 65 businesses and organizations from Northern Ontario communities and First Nations improve their online presence, access new markets, increase exports, network with potential buyers and partners and increase sales. Since its inception in 2015, NOMS has helped participating businesses generate sales of nearly $80 million, while creating 690 jobs across Northern Ontario.
Northern Ontario has been hard hit by COVID-19 and today's announcement is further proof of the Government of Canada's commitment to families, communities and businesses, helping them to not just survive, but also thrive. It will help get Canadians back to work and ensure that Northern Ontario's mining supply and service sectors are well positioned to fully participate in Canada's economic recovery.
Quotes
"The Canadian mining sector has shown its resilience and strength throughout the COVID-19 pandemic. With many communities across Canada dependent on this important sector, our government is investing to ensure that local businesses and organizations can adapt to the new and quickly evolving realities of the global marketplace. Our investments will continue to support their efforts to strengthen Northern Ontario's economy and create good quality jobs."
The Honourable Mélanie Joly, Minister of Economic Development and Official Languages and Minister responsible for FedNor
"I'm proud that this investment will help up to 65 Northern Ontario companies in their efforts to scale up through exporting opportunities that will lead to job creation, economic growth and increased profitability. The Northern Ontario Mining Showcase has an impressive record of success and I'm pleased the City of Temiskaming Shores is helping with the transition to PDAC's virtual stage so that local mining sector businesses and organizations can continue to grow our economy and create jobs."
Terry Sheehan, Member of Parliament for Sault Ste. Marie and Parliamentary Secretary to the Minister of Economic Development and Official Languages, the Honourable Mélanie Joly
"The Northern Ontario Pavilion at PDAC helps unleash the economic potential of the mining supply and service sectors here in Nipissing-Timiskaming and across Northern Ontario. The global opportunities this virtual conference will generate for participating businesses is immeasurable. In 2020 alone the FedNor-funded pavilion helped exhibitors increase sales by more than $12.7 million, while creating more than 90 jobs in the region."
Anthony Rota, Member of Parliament, Nipissing-Timiskaming
"We're thrilled that we are able to move the Northern Ontario Mining Showcase to PDAC's online platform to ensure participating businesses derive maximum benefits from the 2021 virtual convention. We're currently working with exhibitors to enhance their online presence so they can showcase their products and services to potential clients from around the world when our pavilion and the PDAC conference go live on March 8."
Carman Kidd, Mayor of Temiskaming Shores
Quick facts
Associated links
- 30 -
Contacts
Catherine Mounier-Desrochers
Press Secretary
Office of the Minister of Economic Development and Official Languages
Barclay Babcock
Communications Officer
FedNor
705-690-0957